Yolanda, known as "Landy" by so many, was beautiful, kind and brave – truly amazing in every way.
In the early hours of the 5th August, 2018, as she was walking home after a night out with friends, she was killed in a "hit and run" incident outside Stockwell Tube Station in London. She was taken so suddenly and cruelly from us and we are determined to ensure something decent comes out of her death. Using the love, support and resource we as parents would have given her, we want to ensure the work she will never be able to do herself, will get done.
She worked with disabled children to develop communication skills through drama. She produced plays and managed to draw together a huge range of people to put on performances that were wonderful. She travelled to New Zealand, became a ski instructor and spent the next two seasons, working specifically with children in New Zealand and Europe – all while completing her English degree at Kings College, London. She nannied in Australia and then worked as a Teaching Assistant with particularly vulnerable children. She had a wonderful ability to make others feel good about themselves and she could see the funny side in everything.
We have been so very touched by the amount of support the Foundation has received from so many. Thank you!!!!
We are now helping young people 15 – 24 in London, Dorset and Hampshire get their feet off the ground, with both financial aid and pretty much anything else we can do to help them reach their goal.
If this sounds a bit like you, why not visit our Apply page.
Would you like to make a quick donation?  Find out more here.
100% of the donations go directly towards funding the aspirations of the young people who successfully apply for our help. We do not use any donated funds to support our administration costs (or even our post board meeting pints).
See our latest news and updates, click on the text on any article on the right to find out more.
Sign up to our newsletter to get this directly to your inbox.
Casey Purdie is putting pedal to the metal from Lands End to John o'Groats 
Casey is cycling over 1000 miles (!!!!) to support us and two other amazing charities. You can find out more about her legendary challenge and donate below. She had already raised more than £700 for The Yolanda Moore Foundation by the end of March.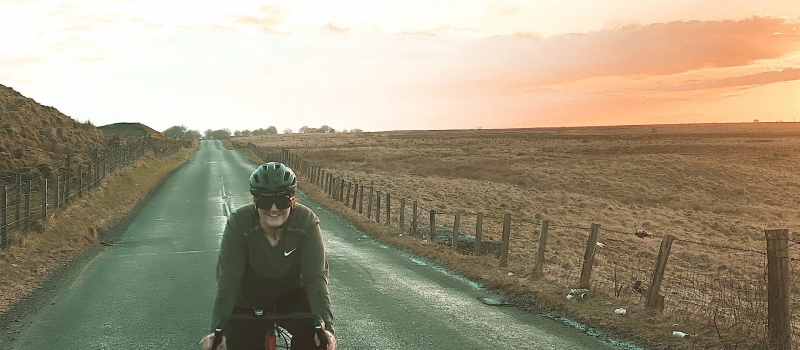 Hannah and Sophie Edwards ran  the Bath Half Marathon and raised an amazing £1,788. 
 Thank you so much.
Sophie and Hannah spent many weekends and holidays with Yollie growing up and have many wonderful, hilarious and fun memories and they ran the half marathon on 15th March 2020 to raise money in her memory.
Hope and Jonathan supported the Foundation at their wonderful wedding. 
They and their guests donated a brilliant £700 towards the Foundation. Thank you so much for your support!
Chrissie Whitfield ran the New York Marathon
Chrissie refinished the New York Marathon in a fantastic time of 3 hours and 46 minutes.  Thank you so much to everyone that supported and sponsored her and helped raise and awesome £1,600 for the foundation.  Thanks Chrissie, you are a star.
Sara Lee ran the Nottingham Half Marathon
Sara pounded the pavements in the Nottingham Half Marathon on 29th September for TYMF. She's achieved her target of raising £500 and we're so grateful to her – and to everyone who sponsored her! 2:35 was no mean feat!!! Thank you so very much Sara!!
Tracy Cox Head Shave
Tracy raised an amazing £1,385.  She wanted to do something to contribute a positive difference for sometime knowing that it would need to be something drastic. She didn't want to ask for money to pound the pavement running, a bake sale or even a sponsored silence – she shaved her head instead.  What a superstar.
Rob Atkins' Big Walk
Rob Atkins braved the elements (and there were LOADS of elements) and faced the cold to walk the Pennine Way in June. He hiked the 439km over 14 days and raised a whopping £5,319 for us. Legend.
King's Snow Sports – End of Year Party
K.I.S.S. raised £588 in memory of their former legendary social secretary Yolanda. A whole bunch of ski peeps, drinks, a raffle and of course, loads of merch (thanks Afterjam you legends).
London Tough Mudder Classic
On the 4th of May 2019, Ella, Issy, Katie and Midge, took part in the London Tough Mudder Classic. They challenged themselves to a dirty, muddy, wet 8-10 mile, 25 obstacle course in support of The Yolanda Moore Foundation. They raised £1400 – go on gals!
We've had some great fundraisers so far, from a big office feast to a cracking (literally eggs cracked over heads style) pub quiz. Keep an eye on our Facebook page for upcoming events or create your own! All you have to do is drop us an email to get your own fundraiser going.
Have a look at our mission statement to find out more about what we want to do and how we aim to keep Yolanda and her life present in everything we achieve. You can read it here.